What to Consider When Choosing Your Storage Unit Size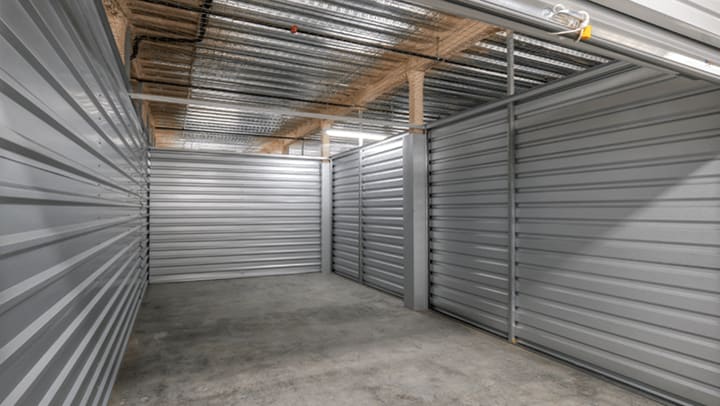 When choosing a storage unit facility, one of the toughest decisions is what storage unit size you need. You don't want to pay for space that you won't need, but you certainly don't want to run out of space.
Most people can't accurately determine the exact square footage needed to store their items because there are so many factors that go into this. Instead of guessing or settling for the wrong size unit, we've put together a checklist of things to ask yourself in order to help you arrive at the right decision.
Questions to ask when deciding your storage unit size
How much stuff do you have that needs to be stored? Do you have a lot of items that need storing or just one closet? One room? Two rooms? If possible, the best way to start is by putting all the items you'll need to store into one room. Stack things, and move them around until you find the best way to save space. Once you've put all those items in one room, you'll be able to measure how much space you need.

How long do you intend to have it, and will you be adding to it over time? If there's a chance you'll be adding to your storage unit, then it's always best to have some extra space. Moving storage units can be tough, so don't put yourself in that position. Unless you're certain that you won't be adding items to your unit, we recommend sizing up to give yourself some more room.

Do you have fragile or oddly shaped items? If you're storing boxes, you're in a great position. Boxes are easy to stack and are extremely easy to measure. But what about storing a couch, a mirror, a fragile sculpture, and some tools? These things likely aren't stackable and will need some space in order to make sure they don't get damaged while in storage. Factor in some extra room when you have these items.
Now that you have a better idea of your storage needs, check out your different options:
Small 5'X5' (25 sq. ft.)
Compares to: regular closet
What it holds: personal items, clothes, boxes, small furniture items, documents, children's toys.
Think of this as an extra closet. It's perfect for someone who doesn't need a ton of storage, or someone who wants to store documents or a few other items away from their home in the case of an emergency.
Small 5'X10' (50 sq. ft.)
Compares to: walk-in closet
What it holds: some furniture (sofas, chairs, dresser, mattress), plus small items and boxes.
This is perfect for the student who's home from college with their dorm room's furniture, someone downsizing, or someone with a few pieces of furniture they just can't part with, even if there's no room for them at home. It's also perfect for storing documents, seasonal clothing items, and those things that won't fit in your garage.
Medium 7.5'x10' (75 sq. ft.)
Compares to: large closet
What it holds: some furniture (larger/more items than the small – sofas, chairs, dresser, mattress) plus some bulkier items and boxes.
Similar to the 5'x10', this unit is great for people who have a few extra items that they don't have room for, but gives you some extra room if you have bulky, oddly-shaped items that may not stack well.
Medium 10'x10' (100 sq. ft.)
Compares to: half of a one-car garage
What it holds: Major appliances, typical furniture items, boxes, and smaller items.
Think of this as a one-bedroom apartment. Fill it with all the necessities that you'd need regularly. This is perfect if you're downsizing by a bedroom, if your child moves away to college but you can't part with their items, or if you're renovating a room and need to clear the items for a bit.
Large 10'x15' (150 sq. ft.)
Compares to: a little less than (about ⅔ of) a one-car garage
What it holds: items from a two-bedroom apartment or house, including appliances, furniture, boxes, and miscellaneous oddly-shaped items.
This is the size for a typical small family in between moves. If you have a few rooms in your home and the typical amount of furniture, this unit is perfect for you. There's plenty of room to stack your furniture, boxes, and anything else you may not need at the moment.
Large 10'x20' (200 sq. ft.)
Compares to: standard one-car garage
What it holds: the standard three-bedroom house; major appliances, furniture, and plenty of boxes.
It'll be tough to run out of room for all of your items with this unit. You can essentially fit your entire house in here; so if your family is traveling for an extended period of time or in between moves, this is perfect for you.
Extra large 10'x30' (300 sq. ft.)
Compares to: standard two-car garage
What it holds: standard four-to-five-bedroom house; major appliances, furniture, and lots of boxes.
This is the largest unit we have and includes enough room for everything in a large home. These are larger than most moving trucks, so if you can fit all of your items in a truck, you can fit them all in this unit.
Still unsure what size unit you need? No problem! Call us for more details or stop by the location you're interested in and we'll show you your options in person.
More From Space Shop Self Storage