Pantry Organization Tips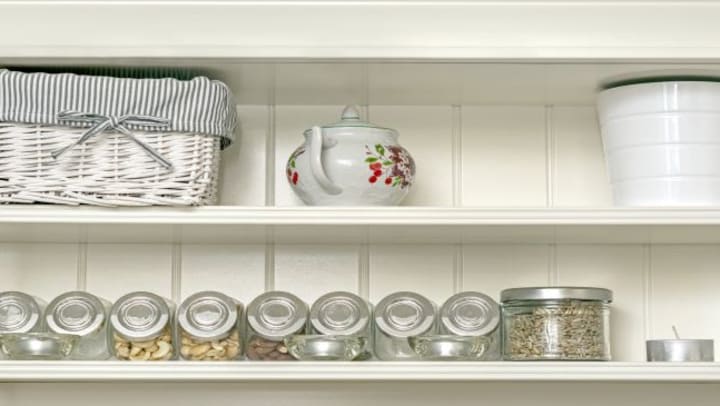 Organizing your pantry is no easy task. And keeping it organized can be even tougher. But it doesn't have to be intimidating, and YES, it is possible! We've put together some of our favorite pantry organization tips to help you live a happier, more organized home.
Start with an empty pantry.
This is the fun part. Before you can organize, you've got to clear everything out. Completely empty all of your shelves and start completely fresh.
Clean your shelves.
Now that you have a clear pantry, it's time to clean it! Wipe it down, get rid of all those inevitable crumbs you've accumulated over time, and sanitize it. A clean, germ-free home is a happy home!
Purge, purge, purge.
Be real with yourself — are you really going to use that giant can of stewed tomatoes that you've had in the back of your pantry for over a year? Do you have any snacks that have been open for so long that they're stale? What about random rogue packets of oatmeal or snack bars? If they don't have a place and you're truly never going to use them, get rid of them! If you're concerned about being wasteful, you can always donate to a local soup kitchen or shelter.
Organize bulk items.
Typically, the reason you have so much clutter in your pantry is because of large boxes and packages of food. What if you could minimize this? Consider jars for grains, baskets for snacks, and bowls or dishes for miscellaneous items.
Label.
If you're going the jar-and-basket route, you'll need to be able to tell what your items are without their labels. Consider a label maker or chalkboard or dry erase tags that you can change as often as needed.
Sort by type of food.
This is where the layout of your pantry really comes into play. If you have a large walk-in pantry with plenty of room, you can spread out your items a bit more. If you're limited on space, you'll have to get creative on how to best organize. But there are some tips that are universal, no matter how much space you're working with.
Put the items you use the most at eye-level. This will make it easy to grab and go.

Separate baking goods, spices, canned goods, pastas and grains, and snacks into separate areas so you can later find exactly what you're looking for.
Revisit your pantry organization after a couple of weeks.
Now that you've organized, you're not quite done. Try it out for a few weeks to see if you and your family become accustomed to your new system. Is anything out of place or difficult to find? Maybe you'll even uncover a need for some more jars or baskets. Just don't be afraid to revisit your new system after you've implemented it — this should make your life easier, not tougher!
Tackling your pantry is no small feat. If you're able to follow these tips and become even the slightest bit more organized, then we consider that a success!
Once you take some time to rest after this tough task, consider these other tips for kitchen organization, including storage ideas for everything from trash bags to pots and pans.
More From Space Shop Self Storage