Nursery Storage Hacks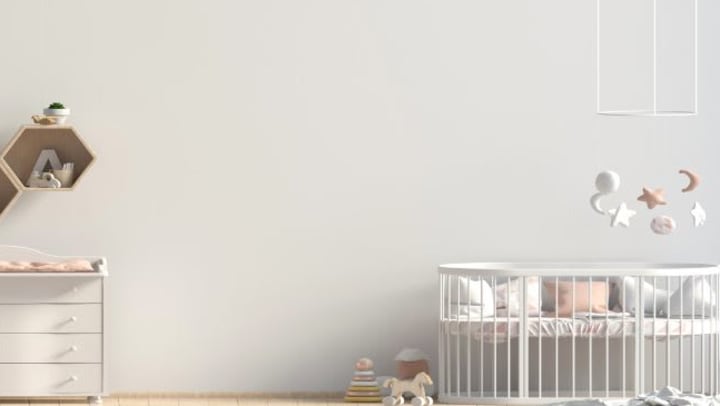 We all love a good nursery, but we all know that we sure end up with a lot of things for our little ones, but usually very little space. That's why optimizing your nursery storage can keep you organized and sane!
Some nursery storage tips to help you:
Prioritize the items you keep in the nursery.
There should be essentially 3 different categories of items in the nursery. Once you categorize your items, it'll naturally become clear which items need space that's easily acceptable and which items can afford to be stored away until they're needed. The 3 categories:
Everyday use

Clothes and toys used fairly often

Seasonal clothes and toys you seldom use
Store items under the crib.
You can even invest in a (cute) crib skirt to keep them tucked away and out of view. Consider boxes or plastic bins to store items that fall into the second or third category as you won't need access to them regularly.
Invest in decorative baskets, bins, or buckets.
Storage doesn't have to be boring. Find some cute baskets that will add some personality to the nursery while still being functional.
All the shelves!
Consider using box shelves, wooden shelves, bookshelves, or even spice racks to store items such as books, picture frames, memorable toys, and sentimental items. This will allow you to put some of your child's items on display while (secretly) storing them and clearing up space for other things.
Sort your baby's clothes.
Babies can go through clothes very quickly (but you knew that). Keep them separated by season as well as age so you can easily find them when you need them, but also so you can prevent clutter later. As soon as your baby grows out of a size, add them to long-term storage (but continue to keep them organized here as well for easy finding later should you need them again!).
Look for convertible furniture.
What if your crib could transform into a toddler bed when you need it? Or if your dresser also doubled as a changing table? Most furniture stores and children's stores have items like these that can help you kill two birds with one stone.
Rotate your child's toys.
You're undoubtedly acquiring a lot of toys, no matter how old your child is (even if they're not even born yet!). Cycle through the toys by season, your child's interest, or simply by convenience. When they're not being used regularly, keep toys in a separate room or closet. Just be sure to keep them organized and labeled so you can easily find them later.
Once you've made some changes and created an organized nursery, check out these tips to keep your child's toys organized at any age.
More From Space Shop Self Storage