How to Safely Store Your Household Items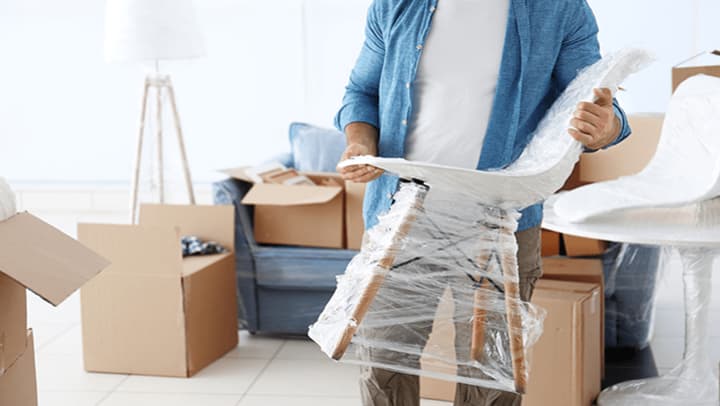 Whether you're about to make a big move, or are just doing some much need deep-cleaning, you're likely going to need to store some of your belongings to get the job done. Before putting anything in a storage unit, be sure to properly prepare them. The last thing you want is to find something that was once in perfectly good condition ruined because you didn't take that extra step to safely store your valuables!
Check out these commonly stored items and how to safely prepare them for storage.
Furniture
Whether it be a couch, recliner, mattress, bedding, or even a kitchen table, it's important to make sure that you properly prepare your furniture for storage. Your furniture gets a lot of hands-on activity, and you certainly don't want to find your couch covered in mildew from improperly storing it!
Tips:
Put plastic bedding or pallets underneath furniture to keep it from getting wet. This is especially true if you store your items in an outdoor unit. You don't want moisture or mold to get on your furniture!

Disassemble any large furniture items, and apply wax to wooden pieces to protect the finish.

Wrap cushioning (bubble wrap, newspaper, towels, etc.) around areas to prevent any possible scratching or denting.

Use masking tape to make an "X" on the surface of any large glass or mirrors.

Use furniture covers on all sofas, love seats, and chairs.

Push table tops against the wall of the storage unit.

Polish metallic furniture to keep it from oxidizing.
Appliances
It can be hard to find extra space in your garage or basement to hold unused appliances, but that doesn't mean you should get rid of them! Besides, you never know when you'll need a back-up. However, if you don't properly prepare them for storage, you could end up with a moldy refrigerator.
Tips:
Make sure all appliances are thoroughly cleaned to prevent mildew, rust, rot, and pests.

Thoroughly dry all appliances before putting in storage.

Cushion and wrap (bubble wrap, towels, t-shirts, etc.) any parts that have glass panels if you decide to remove them.

Use a breathable cover to cover appliances.

Wrap up any cords and attachments and put them inside of the respective appliance so you don't lose them.
Antiques/Collector Items
With antiques being passed down from generation to generation, they're likely to be extremely fragile and should be handled with extra care. In order to be sure that antiques retain their monetary (and emotional) value, be sure to follow these tips to store them properly!
Tips:
Wrap all art in storage tissue — ventilation is key!

Wrap all antique furniture in bubble wrap.

Place cardboard between paintings and wrap any sculptures with padded material.

Be sure to store rugs on rust-free metal shelves.

Do not lean canvases against walls (this could ruin them).

Store the items in a safe, secure unit.
Electronics
When you're storing electronics, make sure that you keep them in a safe and secure place. If your TV doesn't work after a month of storage, it's likely not the remote, but the lack of storage preparation. Without proper attention and care, your electronics could easily turn into a collection of circuit boards and wires.
Tips:
Individually wrap each part of the electronic device.

Put the wrapped pieces into a sturdy box.

Be sure to put all of the parts to a particular electronic device in the same box so you don't mix them up.

Stuff any empty space that you see in a box with newspaper, towels, or bubble wrap to make sure everything is sturdy and can't shift around.
Regardless of whether you're storing your valuables for a long period of time or a short period of time, you should always prepare them as if they're going to be in there for a while. You know what they say: it's better to be safe than sorry!
Looking for a storage unit near you that you can trust to take good care of all your belongings? The Space Shop can guarantee your valuables will be in the best environment possible with our climate controlled unit! Find a location near you!
More From Space Shop Self Storage