10 Things to do in Atlanta this Winter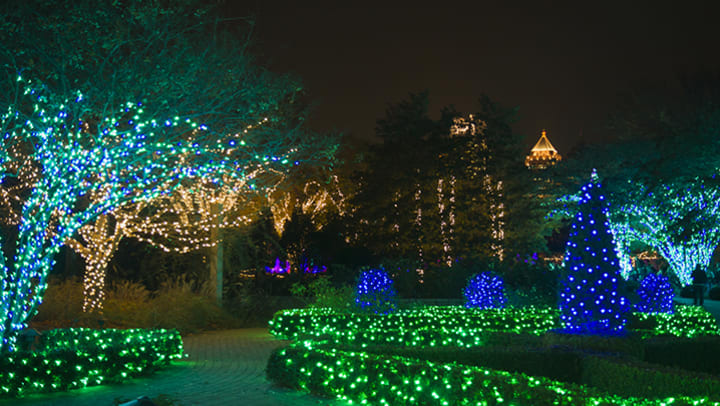 The cold months have finally hit and it's time to trade your swimsuits for sweaters, and fruit juices for cocoa. Aside from the occasional snowstorm, Atlanta tends to have some pretty mild winters – especially compared to our neighbors up north. Even though we luck out with our winters, the air can still get pretty crisp. Don't worry, though, there's still plenty to do in Atlanta this winter that's sure to appeal to everyone's taste.
Run one of these chilly 5Ks.
If running is your thing, Atlanta puts on some of the coolest winter-themed 5Ks. From the Lantern Run to Ugly Pajama Jogs, you're sure to find something for you. If you're more than the average runner, you can always go the extra mile and amp up your race distance to a 10K, half marathon, or even a full marathon.
Go ice skating.
There's just something idyllic about skating in an outdoor rink that you can't get in an indoor one. Head on over to Atlantic Station, Marietta Ice Center, or Avalon on Ice to glide your way through the winter season.
Visit Stone Mountain.
Stone Mountain is the perfect spot for a fun day regardless of the season. During the winter, they're constantly putting on fun holiday-themed events that are both adult and child-friendly. They even have snow tubing and laser light shows!
Watch a show.
Atlanta puts on a number of shows during the winter time, especially around the holiday season. The Fox Theatre and Marietta's New Theatre are the places to be this winter. Some of our favorite holiday classics like A Very Grinchy Christmas and A Christmas Carol will be playing, so be sure to grab your tickets before they sell out!
Head to a museum.
From Fernbank to the High Museum of Art, there's plenty of variety when it comes to museum options in Atlanta. The best part is they're kid-friendly, which means no babysitters and the perfect way to spend a day out as a family.
Get your inner sports fan on.
Cheer on the Atlanta Falcons at Mercedes-Benz Stadium or the Atlanta Hawks at their newly renovated State Farm Arena. Don't forget to pick up some fan gear while you're there!
Go to the Chinese Lantern Festival.
Head on over to Centennial Olympic Park for their annual Chinese Lantern Festival. Be prepared for lots of beautifully crafted lanterns, a three-story pagoda, and a 200-foot-long Chinese dragon all constructed by artisans from China.
Check out some new restaurants.
Winter is the perfect time to check out some new places to eat. You can never go wrong with a good burger joint or BBQ place in Atlanta. If you're ITP (inside the perimeter), venture outside of the perimeter and check out some of the eateries they have to offer!
Go go-karting.
Do you have a need for speed? Indoor go-karting is the perfect way to blow off some steam during the colder months – rain, snow, or shine! Bring along your family members or friends for a day of friendly competition and lots of fun.
Take a hike.
Strap on some boots, throw on a jacket and step outside to experience nature. There are plenty of easy hikes and trails near Atlanta that have even prettier views during the colder months. If you need a way to keep the kids involved, check out these easy kid-friendly nature walks.
Winter weather doesn't have to get you down. There are plenty of things to do in Atlanta this winter; all you have to do is look! With all the winter clothes coming out of hibernation, you're going to need a place to store all your summer items. You can find your nearest Space Shop Self Storage location here to start making space for winter activities!
More From Space Shop Self Storage