Top 7 Home Office Storage and Organization Tips For Your Home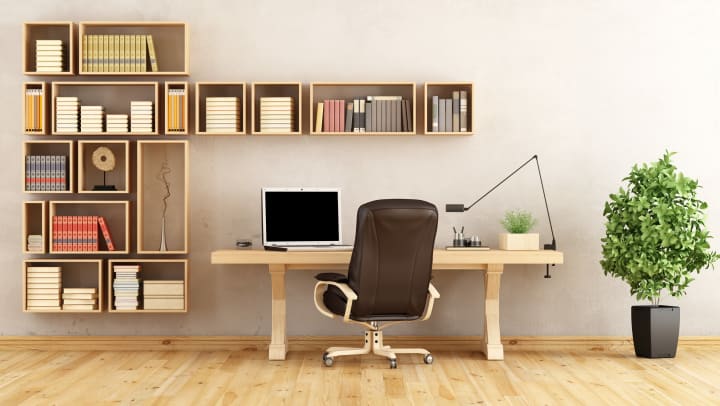 Work from home? Need a quiet place for you or your kids to catch up on some work or school? We're sharing some of our best office storage tips to keep your home office clean and organized.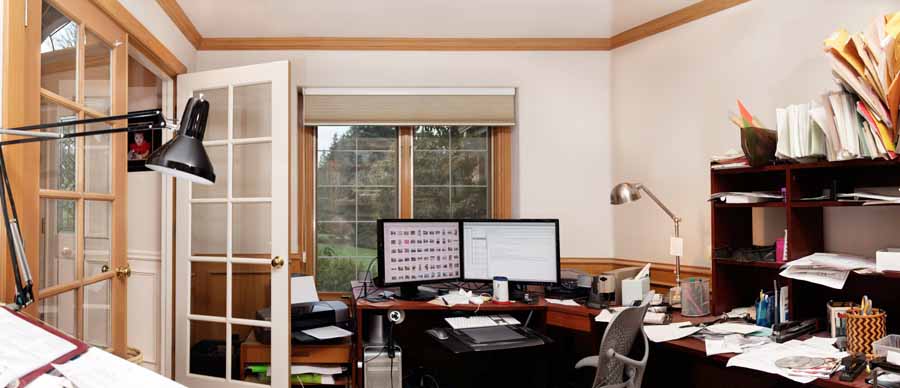 Embrace the boxes.
Whether you choose to use boxes that match the design of your office or simple cardboard boxes, they'll come in handy for storing documents, folders, mail, and any other paper goods. When you run out of room in your filing cabinets or you have items that you don't need as regularly, store them in a box and stack them away in a closet or on shelves.
Consider open shelving.
Storing everything in a closet, drawers, or cabinets away from view can mean chaos when you're trying to find something. Plus, open shelving gives you plenty of opportunities for DIY projects — think of all the boxes, binders, and more than you can create to add to your shelves!
Construct a built-in desk.
A built-in desk can be your saving grace when it comes to office organization! Build it with your specific needs in mind. Do you like having shelves and drawers all around you, or do you prefer a little extra desk space when you work? If you're handy, you can build it yourself with the help of this tutorial.
Store your cords.
Bundles of unorganized cords can be the number one reason your office feels cluttered or messy. Try to set up all of your devices in the same area so you can keep all the cords together. Tie them together using zip ties and store them in a drawer or behind your desk.
File it away.
Having an organized system for documents can make all the difference. Spend a little time upfront creating a system that works for you, and label your different filing folders or sections for the future. Get in the habit of filing away your documents or shredding them as soon as you can (note: we offer document shredding at our facilities!).
Pin it.
Cut down on paper clutter by purchasing a cork board and pushpins, a whiteboard and markers, and/or a magnetic board and magnets. Keep only the most important information here, and store away the rest! No more sticky notes or pieces of paper scattered around your desk (which can also mean fewer forgotten memos!).
Maintain your office.
Spend some time implementing all of these changes initially, but make sure you're spending a few minutes each week tidying up and keeping everything organized. We all have those chaotic days where we can't stick to our systems, but make sure you follow those days with some organizing and tidying. If you dismiss this step, you'll likely find yourself looking for even more organization tips in just a few months.
While organizing your office, if you come across items you just don't need right now, consider storing them in one of our climate-controlled storage units. It's the perfect place to store those documents you won't need for a while, those boxes of items you'll need later down the road, and even the office furniture you've grown tired of. Check out our various storage options to help you even more when it comes to office storage.
More From Space Shop Self Storage