Stop Replacing Patio Furniture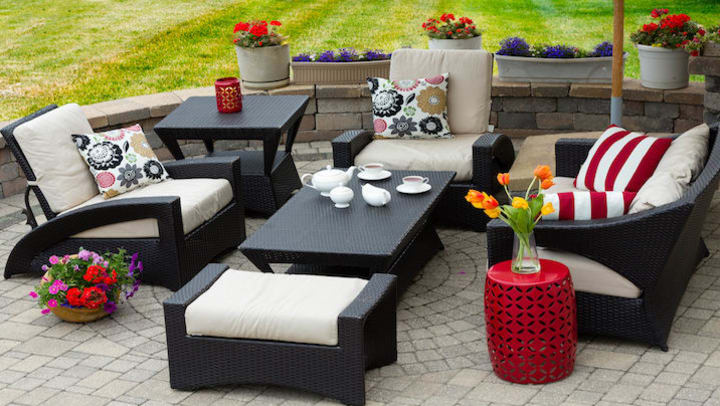 A quality porch can be a key to increasing the quality of life. And the key to a quality porch? Patio furniture. The costs can add up buying the most comfortable furniture and having to replace it so often with weather doing its damage. Save yourself some money by properly storing patio furniture.
Patio furniture is designed to withstand the temperate spring and summer months, so you're not doing your patio furniture justice by leaving it out year round. We've laid out just how to take care of any type of patio furniture you have before storing it.
Metal Furniture
Drain all water from patio furniture. Steel and aluminum furniture, especially, can rust easily.

Look to see if any rust has already taken over some of your furniture. A rust-neutralizing primer can make a huge difference if you do find rust. Apply the primer, scrub it with steel wool and then paint over where the rust once was and your furniture will be as good as new.
Cleaning your furniture can also help keep it fresh to take back out in spring. Scrub with water and detergent and rinse.

Coating metal patio furniture with car wax and buffing it will ensure your furniture a long life.
Wood Furniture
Never cover wood furniture before making sure there is no moisture. Once trapped inside the cover, moisture can permanently damage wooden patio furniture.

Clean wood furniture with a mixture of detergent, bleach, and water. Rinse with a hose and dry completely.

For painted wood, maintain the finish an time you notice it needs to be restored.

For natural wood, coat with a clear water repellent and protect it with paste wax.

Teak and Cedarwood patio furniture can require some different maintenance techniques.

Use a bleach solution that can stay on the wood for one or two days. This will kill mildew and help restore the wood's light color.

Sand the furniture and apply tung oil to treat the wood.
Wicker Furniture
Again, a bleach and water mixture will clean wicker patio furniture well. Rinse the mixture off gently.

Spray paint covers wicker furniture well when touching up the finish.

Moisture attacks from the start of the wicker. Apply moisture repellent to the end grain on the legs and feet of the furniture.

When storing, place the wicker furniture on something, like blocks, to keep it off the ground can keep your wicker furniture fresh for spring.
Plastic Furniture
The low-maintenance patio furniture, simply spray down and wash with detergent to clean!

Don't store in below-freezing temperatures.
Storing Patio Furniture Fabric
While it's not the furniture itself, the fabric cushions and covers are vital to maximizing comfort, so take care of it as well!
For removable covers, wash them with bleach if the fabric label permits. Return covers to the cushions and store off of the floor.

Wash rope and cloth hammocks with normal detergent.

Umbrella and other non-removable fabric can be scrubbed with mild detergent and dried before stored.
Utilizing these tips can save you and your wallet any frustration by storing patio furniture this off-season. The Space Shop is here for all your storage needs! From climate controlled storage to any size storage space you need, we have it all! Come visit your nearest location.
More From Space Shop Self Storage