How to Store a Mattress in a Storage Unit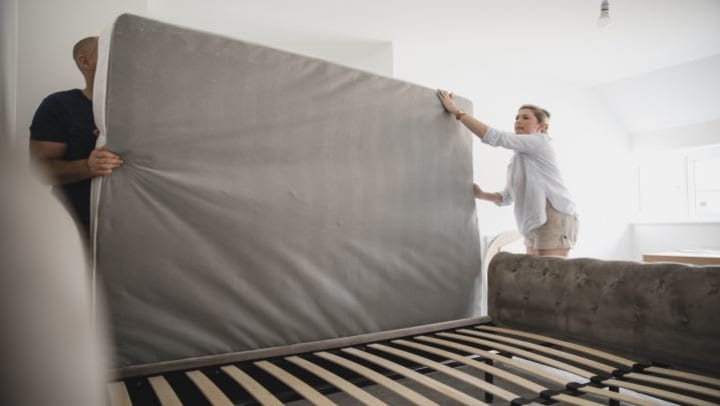 Mattresses can be pricey, but if properly taken care of, a quality mattress can last anywhere from 10 to 15 years. Because mattresses are so expensive it only makes sense to store them when they're not being used. However, improperly storing them can cause some irreparable damage. To expand the longevity of your bed, follow these tips on how to store a mattress.
1. Thoroughly clean your mattress.
Every mattress is a bit different, but they all follow the same washing principles (just be sure to read the tag). Start by vacuuming your mattress on both sides to remove any loose dust or dirt. Then use an upholstery cleaner (similar to the kind that you would use for a couch) and spray one side at a time. Gently wipe away the spray, and scrub any spots as needed. Be sure to let it air dry for at least 24 hours. It may sound like a long time for only a little bit of spray, but if there's one thing you don't want to do with a mattress, it's wrap it up while it's wet.
2. Cover it in a plastic wrap.
Before you can transport your mattress to your storage unit, you need to prepare it for the ride. Thoroughly wrap your mattress in a plastic wrap or buy a plastic, heavy-duty mattress cover to slide your mattress into. Wrapping your mattress in plastic not only helps reduce any wear and tear it may receive while being transported, but it also reduces the amount of moisture that gets into your mattress while it's being stored.
Pro tip: If you're storing the mattress long term, open up the plastic every few months to let the mattress breathe. Be sure to reseal it entirely afterward, though!
3. Transport it in a covered moving truck.
When moving your mattress from point A to point B, make sure that you're taking extra precautions to keep it safe. We always suggest using a covered moving truck for optimal protection, but if you have a pick-up truck and want to do it yourself, that's fine too. Just be sure to cover the mattress with old blankets or sheets to prevent dirt and damage during the ride.
4. Store it properly in your storage unit.
Once you've finally gotten your mattress to your storage unit, there are a few things you need to do to ensure that it stays safe while it's living there.
Keep the mattress off of the ground: Use wooden pallets or other objects that can elevate your mattress off the ground a few inches.

Never prop the mattress on its side: Lay your mattress flat on the wooden pallets. Propping it on its side can cause the coils and inner-working to settle out of their proper position.

Try to get a climate-controlled unit: While it's okay to not use a climate-controlled unit, using one of these units will help prevent your mattress from being exposed to excess moisture.
Looking for a storage facility that you can trust to take care of your mattress? We've got you covered. Whether you want a climate-controlled unit or a standard 10×10 we'll get you hooked up with the unit that's right for all of your storage needs. Just reach out to us here, or stop by your nearest location and say hi.
More From Space Shop Self Storage