How to Organize a Closet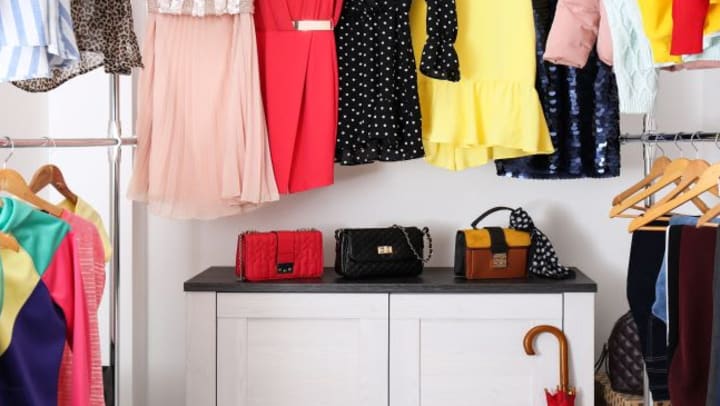 It's time to organize a closet! Whether you have a small closet or a large walk-in closet, organization is key to easily finding what you need, getting ready quickly, and ultimately taking a little bit of stress out of your life.
Here's our guide on how to organize a closet:
Categorize your clothes
As you organize, it's easier to see what different categories you have in your closet. Separate your clothes into different categories such as tops, bottoms, dresses, sweaters, and undergarments.
This is also how you should store your clothes in order to stay organized.
Get rid of items you don't use anymore
Once you organize your clothing items into categories, it's easier to see what categories are taking over your closet. Do you have too many t-shirts? Maybe it's time to get rid of some or even create a t-shirt quilt out of the sentimental ones you no longer wear. Own too many sweaters? Perhaps that's a sign that you should store seasonal items elsewhere.
There are plenty of places you can take your unwanted clothes. If they're in great condition, consider selling them to a thrift store or even online. Or consider donating your clothes to a local shelter or Goodwill.
Organize by items you wear the most
Keep your "everyday" items at eye level, close to the front of your closet for easy access. This will help when you're in a rush in the morning and need to grab a staple item quickly, and should also help keep the rest of your items untouched until you need them.
Use your shelves
Fold large, thicker items and place them on shelves above the things you wear on a regular basis. Even put items like hats, bags, and some seasonal items above so you clear up accessible space for your everyday items.
These tips can seem simple, but there are still some questions that are often asked when it comes to closet organization. Here are our answers:
What clothes to hang and what to fold?
Hang:
Anything that wrinkles easily
Silk
Cotton
Rayon
Satin
Velvet
Dresses
Dress pants
Dress skirts
Jumpsuits
Jackets
Coats
Fold:
Anything thick
Sweaters
Casual skirts
Heavy pants
T-shirts
Denim
How can I organize my small closet?
Most closet organization tips can help, but what if you have a really small closet? These tips should help you organize your small closet:
Add an extender rod in order to increase your available hanging space

Use shelves and shelf dividers

Utilize baskets when you run out of shelves

Don't forget about hooks! If you have any wall space not already taken up by clothes, add some hooks. You can hang almost anything from jewelry and belts to purses and hats. You can even hang some jackets on hooks if you need to.

Get an organizer that hangs or mounts on your door.

Add a shelf or some bins for shoes on the floor.
Now you're ready to organize your closet and take one step closer to living an organized, clutter-free life! Check out our blog for some more organization tips.
More From Space Shop Self Storage