How to Make a Small Space Feel Bigger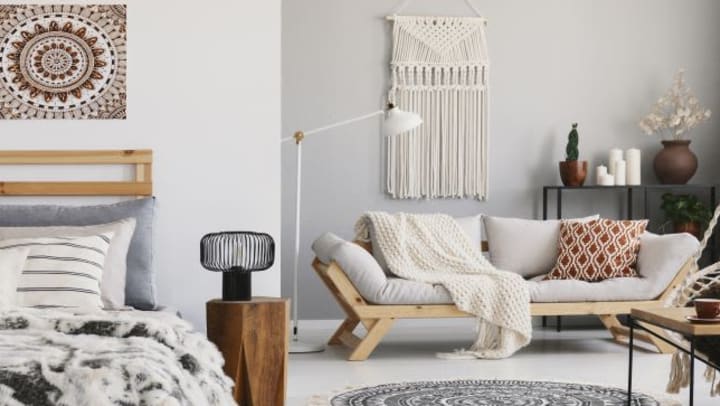 Living in a small space can be charming, but it also comes with its challenges. If decorated well, they can feel comfy and cozy, but if not, it's easy for them to feel cluttered and congested. If you're one of the thousands living in a tiny home, studio apartment, or just an overall small space, don't worry. We've got some helpful visual tips and tricks that'll help make a small space feel bigger.
Furniture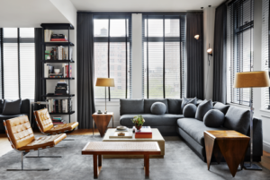 The bigger the better. Yes, you read that right. When it comes to furniture, less is more. Instead of having a bunch of small items, opt-in for a few larger pieces.  Small items make your space look and feel cluttered, whereas larger pieces draw the eye to one particular area.

Use furniture with legs. Furniture that sits on the ground or has skirts can easily make an area look cramped. Instead, use furniture with legs to create a more open feel.

Use transparent materials. Materials that are see-through such as glass and Lucite make any space look bigger. Use transparent materials for things like chairs, coffee tables, and your smaller decor.
Decor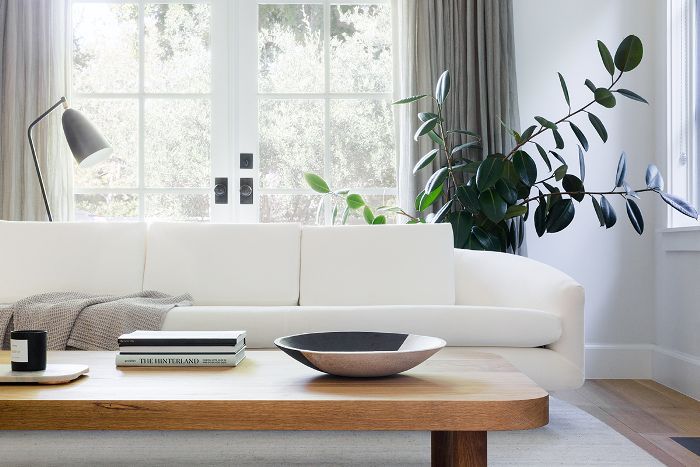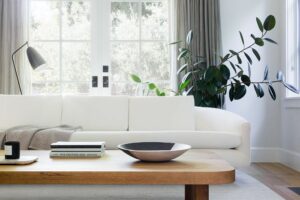 When in doubt, hang it up. The more things that sit on the ground, the less floor space you'll be able to see. The less floor space you can see, the smaller your room looks. To clear up some space, try to use hanging decor.

Use mirrors. The more mirrors the merrier! Mirrors bounce light around the room and can make it feel more spacious.

Fake it 'til you make it. Make your ceilings and windows look longer by hanging curtain rods close to the ceiling. This will draw the eye upward and make your room appear more spacious.
Patterns and Color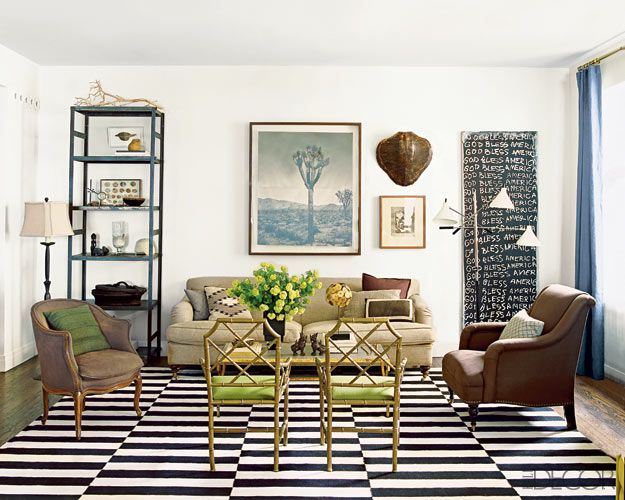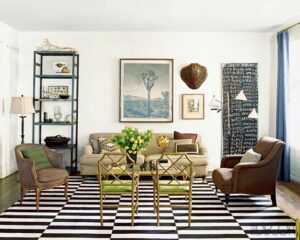 Patterned throw pillows with a striped rug. A
Stripes are always in. Stripes can elongate any room. If you don't want to add in striped wallpaper, try using a striped runner instead.

Neutral is key. Bold hues and small spaces aren't a good mix. Busier pallets tend to feel more cramped, but neutral tones allow more light and "visual breathing room" in your space.

Paint or wallpaper your ceiling. Draw the eye upward by decorating your ceiling in your favorite printed wallpaper or with a splash of paint color. This will give your room some added character without sacrificing space. Check out these awesome wallpapered ceiling ideas!
The biggest rule when decorating your space, no matter its size, is to make sure it fits your own style. Just because it's trendy to have a printed ceiling, doesn't mean its what's right for your space – you should be comfortable in your home! Be sure to check out our other blog posts for more tips and tricks on how to make the most out of a small space. And if you need somewhere to store your things, we're always here to help.
More From Space Shop Self Storage