8 Simple Tips for Making a Stress-Free Move During the Summer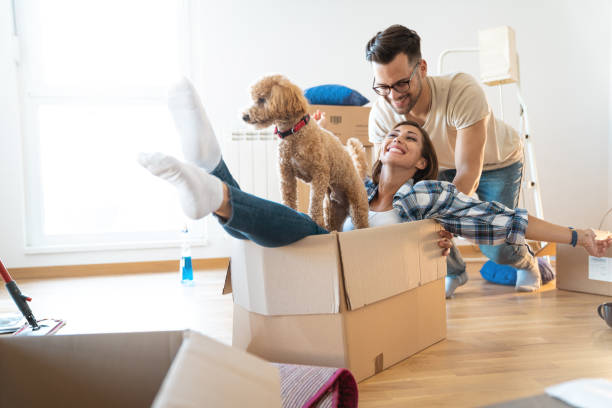 Moving during the hot summer months may be one of the last things you're excited about doing, but you know it has to get done! If you're worried about handling the heat while packing and transporting belongings from one area to the next, check out these eight simple tips that make the process less stressful and far more manageable.
#1. Start Packing Several Weeks in Advance
When you're moving in the summer, one of the worst things to do is save it all for the last minute. If you do that, you'll end up sweating profusely while lifting, packing, carrying, and transporting everything you own. You'll tire yourself out more by trying to do it all in one shot, so start packing in advance. If you take a slower yet steady approach to packing your belongings one room at a time, you'll have less to do on the official moving day, so you won't need to sweat like crazy to get things done.
#2. Coolers and Bags of Ice Are a Must-Have
If you're going to unplug the fridge and take it with you, make sure you have a cooler full of ice on hand. If not, most of your items will spoil. Get the ice right before you plan to remove items from the fridge. You can pour the ice into the cooler and add essentials to it, such as condiments, milk, water, and other items in your fridge. Don't expect them to stay good in a regular box or container, even if it's a short trip to your new place, because the heat will cause everything to go bad faster.
#3. Consider Accommodations for Pets and Kids
Try to avoid moving with the kids and dogs involved. Not only does the heat pose a greater risk to your little ones and four-legged friends, but it can also cause you to end up doing more work than you'd like because of all the distractions. Instead, see if you can have a relative or close family friend watch your kids and pets for a few hours while you focus on moving.
#4. Use a Hand Truck for Heavy Items
Why put more of a strain on your back and body when you don't have to? Save yourself some effort by using a hand truck. On a hot day, lifting can cause you to sweat even more. However, you can do much less heavy lifting when loading boxes and belongings onto the hand truck. If you don't have one, you can rent one or hire a moving company that will supply one for you to use.
#5. Keep Electronics Protected
Invest in packing paper that you can use to separate your electronics and keep them protected. You don't want the heat exposure to cause damage to these costly devices that you may use regularly. However, when sitting out on a hot day with the sun baking on them, items like televisions, laptops, and computers can start to malfunction as wires and other components begin melting! It's not the kind of problem you want to face when you're trying to move.

#6. Have Plenty of Water and Sunscreen Handy
Keep cold bottles of water and sunscreen nearby. You'll need the water to stay hydrated on such a hot day. However, sunscreen will protect you from the sun's harmful rays. The last thing you need is sunburn when you're busy loading items into a moving truck and trying to unpack when you get to the new place. Protect yourself and your skin with water and sunscreen!
#7. Store What You Don't Immediately Need
Do you have some items you won't need right away when you move to your new place? If so, consider storing them. You can even place them in a storage unit a few days or weeks before the move. You can carefully review a size guide for the self-storage units to decide on the specific one you'll need. Once you know the size required, you can bring your items over and start placing them inside, keeping everything organized so that you can quickly grab what you want when you need it.
#8. Ask for Help
Last but certainly not least, don't hesitate to ask for help. It's hard to make a major move in scorching temperatures alone. If you know it's too much to handle, ask family and friends to lend a helping hand. And, if they're unavailable, enlist help from a professional moving company to take on the tasks you don't want to do alone.
Experience a stress-free summer move when following these simple yet practical tips. You can effectively move from one house to the next in the heat of the summer, regardless of the distance, when you're staying hydrated, packing at a slower yet steady pace, storing what you don't necessarily need right away, and more!
More From Space Shop Self Storage