5 Office Organization Tips to Help Your Productivity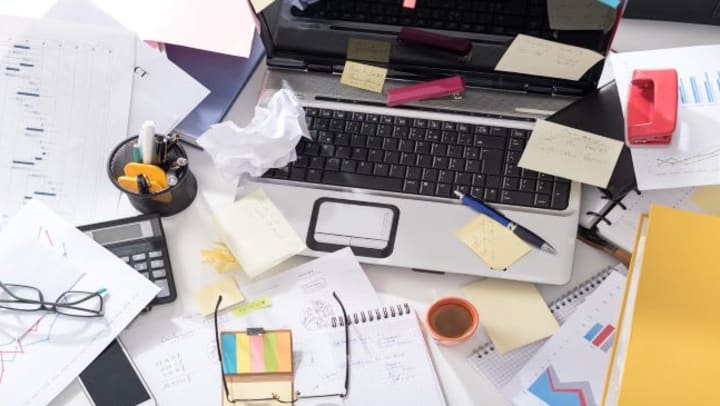 If you're one of the millions of people who work in an office space, you know just how easy it is for your space, whether it be a desk, a cubicle, or room, to become cluttered. But did you know that having a cluttered workspace can actually decrease your productivity and creativity? Good news – decluttering your office is a simple task that can be done within 10 minutes by following these 5 office organization tips.
1. Get rid of any loose papers
Take a quick glance at your desk. Do you have a bunch of old paperwork, articles, or sticky notes lying around? Toss them… after you make sure they're not important, of course. For any loose papers that do have value, make sure to place them in an organized folder inside of your filing cabinets or drawers.
2. Reorganize your filing system
Filing cabinets may be a little "last year", but if you're someone who prefers the old fashioned way of keeping track of paperwork, chances are you have a filing cabinet stashed in the corner of your office. To declutter your filing system, make sure all folders are clearly marked and labeled and remove any that are no longer pertinent to your job.
3. Give your drawers some TLC
Whether it be your dresser drawers at home or your desk drawers in the office, keeping those things tidy can be tough. The best way to ensure that your drawer space stays clutter-free, invest in some drawer organizers so you can keep your pens and pencils separate from your tacks and pins.
4. Hide your wires
Having a laptop, computer monitor, cell phone, and landline all in one small space makes for a lot of wires. Take care of some of this visual clutter by purchasing a cable concealer or using butterfly clips for a DIY method.
5. Utilize a self storage unit
Sometimes your office space holds so much clutter that you simply don't have somewhere to store it all. If this sounds like your space, you can always use a self storage unit at Space Shop! Whether it's filing cabinets, old furniture, or some boxes filled with office supplies, we've got a unit that'll fit your needs. Just stop by one of our locations, say hi, and we'll get you hooked up with the unit that's right for you.
More From Space Shop Self Storage