4 Tips for Moving to Charleston, SC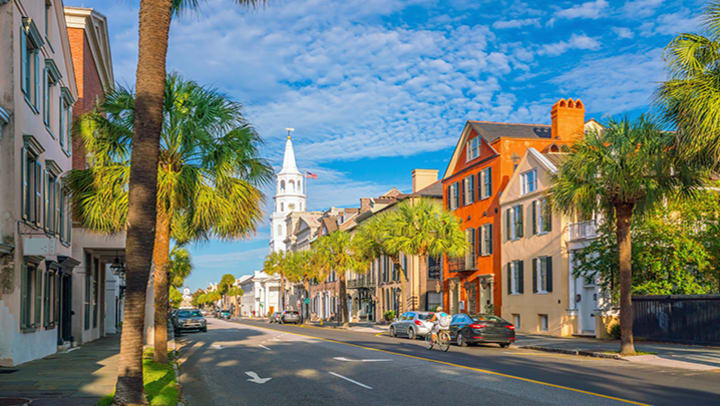 Between its stunning beaches and storied charm, moving to Charleston, SC is like living in paradise. In fact, it even won a spot on Travel & Leisure's list of top 15 cities in the world. Whether you're looking for a house, apartment, or townhome, there are plenty of options to choose from in Charleston. To help you find the perfect spot to call your new home, we've put together some helpful tips to get you settled in no time.
Tip #1: Get familiar with the city.
Charleston is known for its eclectic charm and history, but every neighborhood offers something a little different. Knowing which areas cater more to your particular taste will make life a lot easier when choosing where in the city to set up camp. If you love the vibe (and noise) of a typical city setting, Downtown Charleston would be perfect for you. If you're in the market for a township, then Mount Pleasant or Folly Beach may be more up your alley. You can check out a list of different neighborhoods and their prices here.
Tip #2: Stick to your budget.
According to many financial experts, you should be spending no more than 30% of your monthly income on rent. Before you choose somewhere to live (or get too attached to that upscale neighborhood) determine the maximum amount that you're willing to spend per month. If you don't see anything that meets all your living desires and needs, you can always try looking for a roommate or using websites like Zillow or Apartments.com to find other available options. When in doubt – ask the locals! They usually have a good idea as to where you can look to stay in your price range.
Tip #3: Decide if you'll need to use public transportation.
If you're moving from another populated city, you know the pains of traffic. But unlike other major cities, the Charleston commute isn't intolerable, so if you're planning on getting around via car, you'll be okay! Plus, the city has tons of available parking, both metered and in parking garages with affordable prices. If you're making the big move without a car, don't worry, you can always use CARTA (Charleston's public transit), bike, or even use a water taxi that departs from several areas in Charleston. Whatever your preferred method of transportation may be, make sure that you choose somewhere to live that is will be mobile for you.
Tip #4: Find places that pique your interest.
While it probably shouldn't be your #1 priority, locating yourself near places that are interesting to you can make living in a new place 10 times more enjoyable. If you love the beach, try checking out areas within a mile or two radius of one of Charleston's three beaches. If you're big into running, look into some cool trails around the city. If you're more of a homebody but love an occasional Sunday morning brunch or coffee, check out some of these cool spots and see if there are any housing availability in the area.
Moving to a new city can be a little intimidating, but in Charleston, SC you'll be welcomed into the community with open arms! At Space Shop Self Storage, we know just how important community is, and care about making our customers get settled into their new home. From offering local hot spots to working with you to get a storage solution to meet your needs, we'll be there every step of the way. Be sure to check out our list of storage locations and other blog posts for helpful moving tips and tricks.
More From Space Shop Self Storage